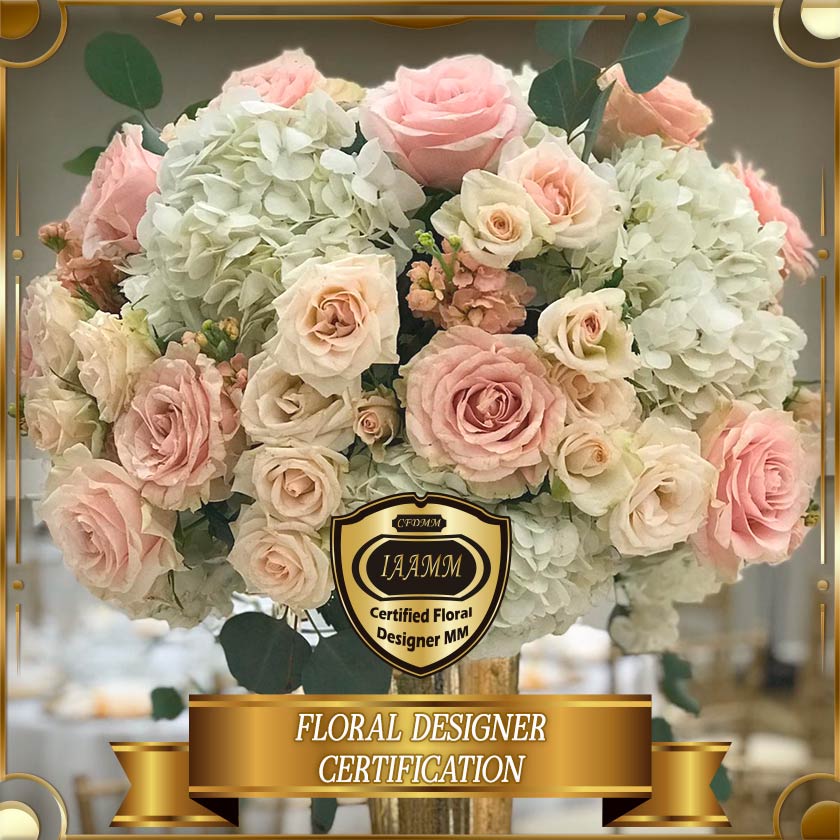 It includes
Welcome kit and certification.
You will learn:
1. How to use scissors and knives for cutting ribbons, stem snips, and thicker stems.
2. How to hydrate a flower.
3. Proper technique on cleaning stems how to cut the stem diagonally for the
stem to absorb the water.
4. Best season flowers used for weddings, 4 different typesof flowers for each season.
5. Proper technique on how to wrap a single stem tightly when creating a
boutonniere.
6. Proper technique on how to create a wrist corsage.
7. How to soak foam so there are no air bubbles in the foam or dry spots in
the foam.
8. How to properly tape foam to a plate that is needed to create  tall arrangements.
9. How long should a foam soak before you use it, to ensure there are no
air bubbles or dry pockets.
10. How to pin a boutonniere.
11. The difference between floral boutonniere tape and Floral wet root tape.
12. Create a bridal bouquet.
13. Foamless arrangements versus foam arrangements. 
14. Using chicken wire for large installations.
15. Properly using zip ties.
16. Sanitization techniques when decorating a cake.
17. How to make a ribbon properly.
18. Hydration solutions that can be used in and out of water.
19.Proper use of floral industry vocabulary and language.
20.PROCESS: Cutting flowers stems properly and providing proper treatment at any stage.
21.Supplies, methods and materials that designers use to place and hold flowers and foliage in an arrangement. How to floral goods and services to clients.
22. You will learn how long does wedding flowers and cut floral materials last after being received.
23. BUNDLING: Firmly wrapping or tying similar materials together to form a bouquet.
24. LIGHT INTENSITY: the right ammount of sunlight that floral material with stem needs before wilting.
25. FRAMING: A design technique in which branches of flowers are used around the perimeter of a floral arrangement to direct attention to the materials in the center of the arrangement.
26. PILLOWING: The tight positioning of flower clusters at the base of an arrangement forming rounded hills.
27. LAYERING flowers : Similar design techniques to place similar materials horizontally on top of each other.
28. Appropriate ribbon for CORSAGES: Number 3 inch ribbon is the appropriate size for a corsage bow. The appropriate gauge of wire for corsages is number 24.
29. depending on the weight of the flower. Construct a corsage so it is as lightweight as possible.
30. DESIGNS: Contain more than one single focal point.the placement of cut material in a parallel design in each group in order to create depth.Shorter stems of mass flowers provide a color & focal point near the rim of the container.
31. CUSTOMER EDUCATION: Florists must educate the customer in order to help them understand the delicate of the flower.
32. PROCESSING FLOWERS: Growers, Wholesalers and Retail Florist must process their flowers.
33. PARALLEL DESIGN: Design that consists of clusters or groups of flowers & foliage that strengthens the element of line which moves the eye through the arrangement.
34. LINE FLOWERS: used as primary flowers to establish the skeleton outline height or width of an arrangement.
35. FORM FLOWERS: Used to create focal point with unusual and distinctive shapes.
36. Focal FLOWERS: Are usually single stem with large rounded heads used inside or along the arrangement to fill in.
37. CASCADE DESIGN: The design consists on several layers of materials, varying in size and texture to create a flower drape.
38. FOCAL POINT: The location within a design that attracts the most attention; where the largest flower is placed.
39. PRIMARY COLORS: The use of a primary color.
40. SECONDARY COLORS: That are used in combination of colors.
41. BALANCE: Assuring the combination of floral and foliage is in sync.
0.00 average based on 0 ratings
---